In computing, virtual memory is a memory management technique that is implemented using both hardware and software. It maps memory addresses used by a program, called virtual addresses, into physical addresses in computer memory but it lacks code details.
Recently, I have come across a very good blog post about virtual memory which explains in theory what is virtual memory and talk a bit about code
The Design and Implementation of the FreeBSD Operating System is an excellent book and this is the book I am reading, following and learning.
This post is about the code level details of virtual memory explaining how the process address space is mapped and managed.
In this post, I will only be talking about user process address not about the kernel process address space. Both anyway uses same data structures.
Components of Process Address Space
vm_map - Head of list of vm_map_entry

vm_pmap - Machine dependent stuff resides

stats - Paging Stats

vm_map_entry

vnode/object

vm_page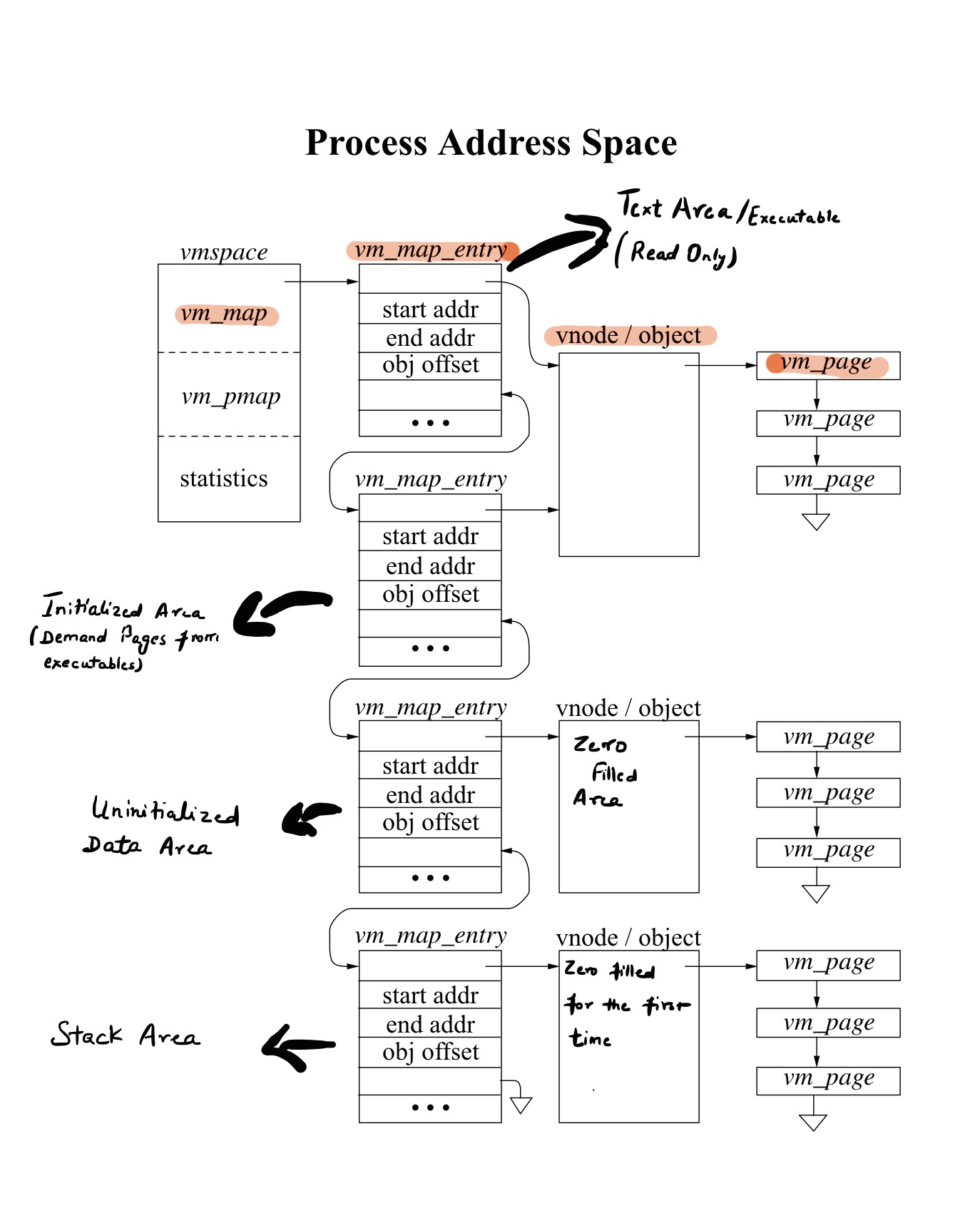 vm_map_entry has a peice of address space it has start and end of virtual addresses.
vm_map_entry has pointer to vnode or object which could be a file, executable or swap object if it is mapping anon memory, it could be device if it mapping a frame buffer.
obj offset - Object offset is the value which says where in vnode/object we should start referencing. Lets say if vnode/object is executable file then we will skip the header part and start with where text begins.
The second vm_map_entry
This block is for Initialized area. This map will refer to the same vode/object(executable file) but at different place(offset) where initialized data resides in executable file. So first vm_map_entry block and second vm_map_entry block refers to the same vnode/object(executable) but at different section(offset) in the same file. If two processes are sharing memory then two process can refer to same offset. So, if one process changes something other can see the changes.
Third vm_map_entry
For anon objects like uninitialized data, stack it will point to vnode/object which is swap object. Initially, when system comes up we don't allocate any space for swap object and lazy approach is followed. When the vnode/object (swap object) is touched first time zero base page is created and we write into it but when we start getting crunch in memory then the paging demon comes and find the space for swap object in hard disk and performs the paging.
vm_page
Each vm_page structure reference to each physical page in the machine. So if there is page of size 4K then there will be lot of pages in the system. For every 4K page there will be one vm_page structure so lets say if there are 100 pages in the system there will be 100 vm_page structure. It could consume lot of memory, so we try to keep structure vm_page as small as possible.
Every vm_pages is referenced by only one PART(not the whole vnode/object) of vnode/object. So looking at vm_page and it will say I am logical block number 100(or something) of this executable(vnode/object).
Pages are logical containers for process. So, when one process goes out and other comes in the same pages will be used by that process references section in vnode/object. So, vm_page can be referenced by multiple processes.
Now, in intialized area lets say we want to change some values in that case we will modifying the page but now same page can be referenced by multiple pages so, we create a copy of page called shadow object and we modify that page.
For vm_page there is a data structure called pvEntry. For each page pvEntry will map to physical address in vm_pmap area(machine dependent area).
We also maintain another data structure which maps all pvEntries associated with vnode/objects.
vnode/pbject -> vm_page1 ->pvEntry1
-> vm_page2 ->pvEntry2
…
…
-> vm_pageN ->pvEntryN

vnode/object -> pvEntry1
…
…
-> pvEntryN

Zero filled memory/Uninitialized object/Swap objects = Third vm_map_entry's vnode/object
Code walk
Header files
vm header file - vm_param.h

vm header file - vm.h

vm header file - vm_map.h

VM protections
#define VM_PROT_NONE ((vm_prot_t) 0x00) #define VM_PROT_READ ((vm_prot_t) 0x01) #define VM_PROT_WRITE ((vm_prot_t) 0x02) #define VM_PROT_EXECUTE ((vm_prot_t) 0x04) #define VM_PROT_OVERRIDE_WRITE ((vm_prot_t) 0x08) /* copy-on-write */
vmspace
vm_map
vm_map_entry
VM object types
vnode/object
vm_page (Least active use algorithm)
Page fault reasons
Memory Allocators
uma.h - Universal memory allocator
Call graph mmap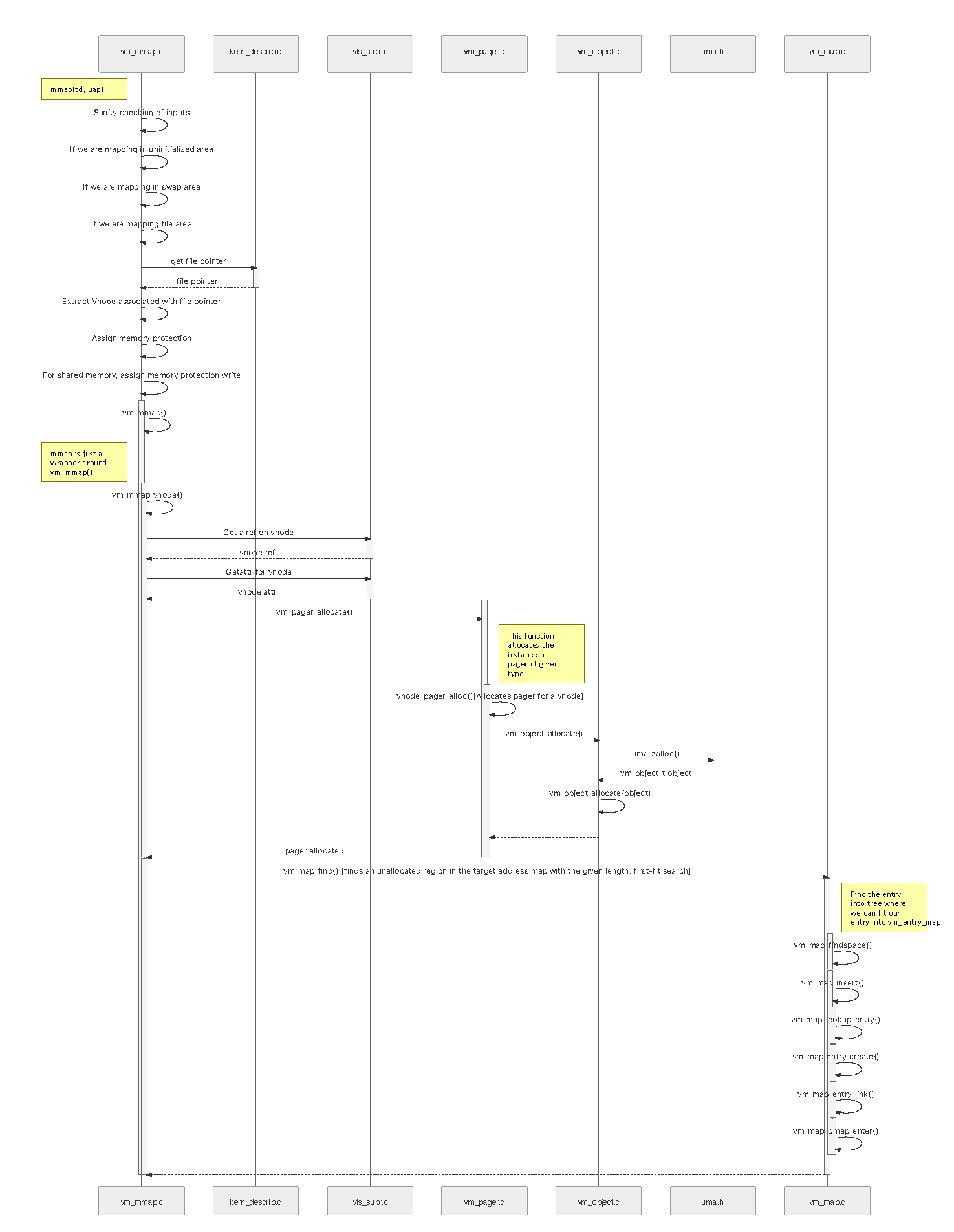 mmap system call
Maps files or devices into memory
mmap() creates a new mapping in the virtual address space of the calling process. The starting address for the new mapping is specified in addr. The length argument specifies the length of the mapping.
mmap is just a wrapper around vm_mmap()
vm_map_find finds an unallocated region in the target address map with the given length. The search is defined to be first-fit from the specified address; the region found is returned in the same parameter.
One lock for active & inactive list
Active list
Inactive list

One lock for cache and free list
Cache list - Pages moves from Inactive list to cache list
Free list - Pages moves from Cache list to free list